Human Machine Interface for monitoring a winding machine
Keywords:
Monitoring, Wires quality, HMI, Winding machine, Human Machine Interface
Abstract
The monitoring function that we are developing is part of an overall monitoring process. It aims, on the basis of the information available on its operating modes, to detect, locate and diagnose failures that may affect its performance and operational safety. The purpose of this paper is to carry out a method for monitoring an automated system based on a Human Machine Interface (HMI). The purpose of monitoring task is the detection and the rapid localization of faults in order to minimize the average system downtime. Finally, we illustrate the implementation of the proposed supervision approach on a winding machine in order to monitor the bobbins quality.
Downloads
Download data is not yet available.
References
M'halla, A., "A Monitoring Approach Based on Fuzzy Stochastic P-Timed Petri Nets of a Railway Transport Network," Journal of Advanced Transportation (JAT), vol. 2021, Article ID 5595065, 18 pages, April 2021.
Bissoli, A., Lavino-Junior, D., Sime, M., Encarnação, L., & Bastos-Filho, T. (2019). A human–machine interface based on eye tracking for controlling and monitoring a smart home using the internet of things. Sensors, 19(4), 859.
Wu, P., Xiao, A., Zhao, Y., Chen, F., Ke, M., Zhang, Q., ... & Chen, Y. (2019). An implantable and versatile piezoresistive sensor for the monitoring of human–machine interface interactions and the dynamical process of nerve repair. Nanoscale, 11(44), 21103-21118.
Franciosi, C., Di Pasquale, V., Iannone, R., & Miranda, S. (2019). A taxonomy of performance shaping factors for human reliability analysis in industrial maintenance. Journal of Industrial Engineering and Management, 12(1), 115-132.
Shi, Q., Zhang, Z., Chen, T., & Lee, C. (2019). Minimalist and multi-functional human machine interface (HMI) using a flexible wearable triboelectric patch. Nano Energy, 62, 355-366.
De Visser, E. J., Pak, R., & Shaw, T. H. (2018). From 'automation'to 'autonomy': the importance of trust repair in human–machine interaction. Ergonomics, 61(10), 1409-1427.
Duan, Y., Edwards, J. S., & Dwivedi, Y. K. (2019). Artificial intelligence for decision making in the era of Big Data–evolution, challenges and research agenda. International Journal of Information Management, 48, 63-71.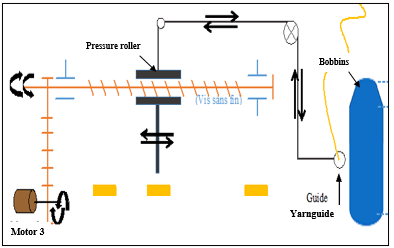 Downloads
How to Cite
[1]
A. Mhalla, "Human Machine Interface for monitoring a winding machine ", International Journal of Engineering and Applied Physics, vol. 2, no. 2, pp. 427–434, May 2022.
License
Copyright (c) 2022 Anis Mhalla
This work is licensed under a Creative Commons Attribution 4.0 International License.
Copyright on any article in the International Journal of Engineering and Applied Physics is retained by the author(s) under the Creative Commons license, which permits unrestricted use, distribution, and reproduction provided the original work is properly cited.
License agreement
Authors grant IJEAP a license to publish the article and identify IJEAP as the original publisher.
Authors also grant any third party the right to use, distribute and reproduce the article in any medium, provided the original work is properly cited.
Most read articles by the same author(s)